There are daily tours operating from Guardalavaca to Santiago de Cuba. We were hoping for a large tour bus, however our tour

completely filled a smaller and harsh riding tour bus. In March 2005, the roads were, in general, rough and the 3 hour trip (one-way) was uncomfortable. But on the way we stopped to visit Fidel Castro's family farm/ranch. His family were wealthy landowners and the property is well maintained as it is a major attraction for Cubans and tourists alike. However, as they charge for pictures I did not take any snaps.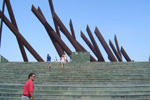 This is Cuba's 2nd largest city and is strategically located on the southwest coast where its well sheltered harbour opens to the Caribbean sea.

Established in 1514, this city has seen more than its share of conflict, and is where Cuba revolution of 1953 began with an ill-fated attack on the Moncada barracks. The mountains to the west are were the home Castro's resistance army. In 1959, Castro declated victory from the town hall. The first stop in Santiago de Cuba was at the Revolution square where the peasant machetes threaten the sky.


This photo, taken from the steps of the Revoution Square monument, capture many elements of Cuban life. The weather is hot, there are always hitch-hikers as there are not that many cars, there are enough 1950's American cars to make it interesting (check out the yellow/white '55 Chev on the right), and there are always political billboards. Translated, this one proclaims;
Rebellious yesterday, hospitable today, heroic always.





The last photo shows a truck doing double duty as a bus, a kind of Cuban private enterprise. Anything that moves carries people and in order to compensate for the lack of sufficient buses, truck owners can use their vehicles as public transit. I believe the standard fare was 5 Cuban pesos but I can't figure out how they collect the fares? ??!!


The tour took us to the naturally sheltered harbour - and on the left, high up, you can glimpse the fortress Castillo de


San Pedro de la Roca (also known by the less formal title of Castillo del Morro). You can almost see the old sailing ships approaching on the Caribbean!
The fort is a UNESCO World Heritage Site and is well worth a visit; great history, well restored and fantastic views.

It was about 32C this day, bright and hot, so climbing was tiresome but what a view - worth all the effort!



Pointing to the 2 foot long iguana, I asked a young guide in my best beginning Spanish;
¿Como se dice? (what do you call [that])?
She replied, with a straight face I might add; "Iguana".